Watch our videos to learn more
Onsite Health Screening
Have our dedicated teams conduct health screening at your premises. This convenience will translate into significant cost savings and productivity gains for both your company and employees. A healthier workforce brings increased work efficiency and productivity through better staff morale and lower out-patient costs.
Through onsite health screening, you can create a positive environment with a focus on employee well-being and build upon effective organisational workplace practices.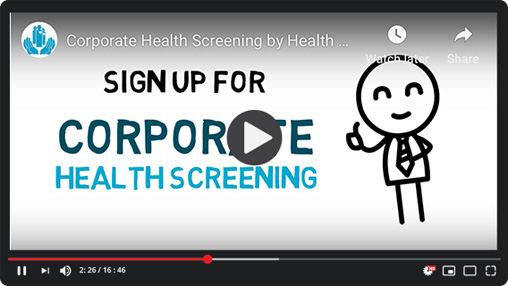 Understand Our Process In 5 Simple Steps
Things we do for our corporate screenings!
Corporate Enquiry
Connect with us to learn more. We can also advise if your company is eligible for grants from the SME+ or WAH scheme to maximise your benefits and funding.
Corporate Assessment
We'll send you a tailored proposal that best caters to your needs and requirements. We'll also be at your disposal for support and address any concerns that you may have.
Pre screening preperation
Need help with promotion and broadcasting? We support you with publicity EDM materials, online registration, SMS reminders and much more!
Onsite Screening
Rest easy on the actual day. We'll be responsible for all set-up, logistics, facilitation and medical report delivery at click of a button.
Post screening consultation
We provide a dedicated helpline for queries and consultations. Your company will also receive a summarised Corporate report with recommendations.
Benefits of a Health Screening Programme
Convenient

Health screening done at the comfort of your workplace eliminates the need for employees to travel down to a clinic, resulting in fewer work disruptions.

Fast & Efficient

Screening takes just 15-20 minutes per employee or up to 70 pax/hour.

Easy to understand

All health reports comes personalised with advise and recommendations delivered within 5 working days

Smart

Significant cost savings, easy planning and productivity gains are just some of the many perks of corporate onsite health screening
Blood Test

Biometric Measurements

Health Reports

Support
Blood Test

Blood Cholesterol

High blood cholesterol can be attributed to excessive intakes of cholesterol-rich food or over-production by the liver. High blood cholesterol leads to increased deposition of fatty material on the inner walls of the blood vessels (known as atherosclerosis) resulting in the narrowing and subsequent blockage of the arteries. When this happens, the risk of coronary heart disease and stroke increases significantly.

Triglyceride

High triglycerides may contribute to hardening of the arteries or thickening of the artery walls (arteriosclerosis) which increases the risk of stroke, heart attack and heart disease. Extremely high triglycerides can also cause acute inflammation of the pancreas (pancreatitis).

Blood Glucose (Sugar)

Glucose is the main carbohydrate in the blood that is used as energy by the body cells. The level of blood glucose is influenced by food intake, and an adequate level of glucose is essential for normal body functions. Its level is controlled by the action of a hormone known as insulin, which is produced by the pancreas. A high level of glucose above the normal range is indicative of diabetes.

HBA1C (if fasting blood glucose > 7mmol)

HBA1C (Glycosylated haemoglobin) is a reliable blood test to assess a patient overall sugar level. Doctors use HBA1C result to gauge the fluctuation of blood sugar levels prior 2-3 months.

Biometric Measurements

Blood Pressure

The pressure of the blood in the circulatory system, often measured for diagnosis since it is closely related to the force and rate of the heartbeat and the diameter and elasticity of the arterial walls. The first (or top) number is your systolic blood pressure. It is the highest level your blood pressure reaches when your heart beats. The second (or bottom) number is your diastolic blood pressure. It is the lowest level your blood pressure reaches as your heart relaxes between beats.

Body Measurement Index (BMI)

BMI is a measure of body fat based on your weight in relation to your height and is used to determine one's health risk of getting obesity related disease. Obese individuals have 2-6 times higher risk of developing high blood pressure and are twice more likely to suffer from stroke than their leaner peers.

Health Reports

Personalised Medical report

Your medical report comes summarised with recommendations and advice on how to modify and improve lifestyle to reduce risk factors. These recommendations and advice are based on the results attained through the blood test.

Those who have continually done their screenings with us over the last few years will get a year-on-year trending on their Lipid Profile and Glucose Profile. (Up to 3 years)

Corporate Statistics Report

The revamped Corporate Statistics Report will provide a more comprehensive graphical summary of the organization's general health status. This includes a new full-report with up to 3 years trending. We have reformatted the report with easy-to-understand charts and descriptions to provide you with a clearer overview of the health status of your organization.

New with us? Let us integrate your past corporate data to present you with a corporate health statistics report with trended analysis over the past 3 years. This report will be provided in PDF format at the end of the Health Screening exercise.

Lifestyle Survey Report

The survey questions will better analyse the lifestyle status of the staff and the corporation, giving our clients a more comprehensive view of their employees' health status. This empowers the institution as a whole to make informed actions towards healthy living.

Support

Client Portal Management

From registration to retrieving your report, it is all managed conveniently by our team and requires minimal attention from you. Our system staggers registration by time-slot and allows you to reschedule your session easily.

SMS/Email notifications

Your staffs will also receive SMS and Email screening reminders and notifications before the screening and be prompted when their results are ready.

Publicity Materials

We provide customized publicity materials as means of support to help you promote our health screening programme.

Strong Post Screening Support

We firmly believe in giving the full support to patients after they receive their medical results. Post one-to-one Doctor consultation is included after patients have received their medical reports. This will provide an opportunity for staff to seek advice as well as doctor recommendations.
Health talk & workshop

Workplace wellness program

Eye screening

Chiropractic assessment
Health talk & workshop

Health Talk and workshop

Education is the onset to a healthier lifestyle. We bring industry experts to your workplaces and impart the right knowledge to your employees

Topics include

Sports Injuries Prevention
Posture and ergonomics
Diet & nutrition
Exercise
Stress management
Financial health

Workplace wellness program

Workplace wellness programs

Implementing well-crafted programs creates and sustains a culture of healthy lifestyle to improve employee satisfaction and productivity

Key programs include

Corporate team building
Food for thought
Mental wellness
Physical activities
Sports and recreation
Workplace intervention

Eye screening

Eye screening

Many lose their vision to preventable eye conditions, but this is avoidable through early detection and early treatment. What's best? We perform workplace vision assessment onsite for that added convenience!

Basic eye screening includes:

Address of eye issue
Eye pressure check
Vision assessment

Chiropractic assessment

Spinal Assessment

Is your job putting your spine at risk? Bad Posture, sitting long hours and daily mental pressures are just a few of the major causes of spinal stress and trauma. We perform workplace ergonomics assessment onsite for early detection of spinal malfunction, muscle weakness, spinal misalignment and degeneration
FAQs
Is onsite health screening permitted during covid 19?
All screening activities are permitted by MOH and HPB, and are conducted in line with recommended safe screening measures.
There is no limit on the no. of pax that may participate in the screening as participants will be screened in batches.
How long does the entire onsite screening last?
Health screening for all your employees will take approximately 3 hours and is usually done in the morning.
Our mobile screening team will come 30 mins prior to setup.
What is required for an onsite screening?
All that will be required from you is a space to conduct the screening. Areas of the office such at conference rooms and meetings rooms are suitable.
Minimal space is required and all equipment will be provided by HOP.
What does the screening typically include?
Our complimentary onsite screening covers common chronic diseases such as diabetes, high cholesterol, hypertention and obesity.
Various top up packages are also available and can be customized to meet your needs.
What will usually happen after a session?
Individuals will receive the lab results together with an interpretation report within 5-7 working days. Complimentary doctor consultation via telemedicine is also included in all health screening packages. Please by calling our helpline at 6746 6033 to schedule an appointment.
An overall corporate employee risk profiling report will also be provided to the company.
Are they any grants available for onsite health screening?
Yes, there are HPB grants available for health screening. At HOP, we also offer complimentary onsite screening as part of our workplace wellness programme.