Hassle-free healthcare experience in 4 simple steps
1. Register

Select your preferred package and confirm your appointment

2. Screen

We come down to your venue with all the necessary equipment on your preferred date & time

3. Results

Receive your full comprehensive report within 3 working days

4. Review

Have our doctors review your results at our clinic or via video-consultation
SELECT YOUR PREFERRED CHOICE :
SMALL GROUP
From
Enjoy an onsite health screening experience at your premise
Home Based
From
Relax at the comfort of your home & have us conduct your annual health screening.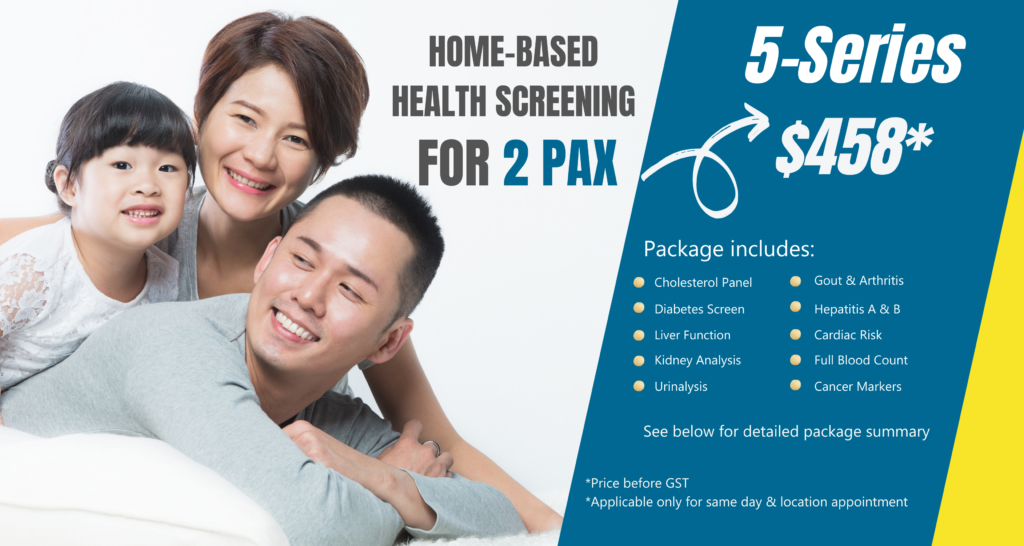 Our Packages
*Disclaimer: Packages listed below are appliable for home-based and small group screenings.
To find out more about our standard corporate onsite health screening programmes,
please click here or contact us at 6746 6033
1 Series
3 Series
5  Series
7  Series
9  Series
Package For 1pax
$58
$118
$238
$358
$468
Package For 2pax
N/A
$228
$458
$688
$888
Biometric Measurements
Blood Pressure
Height & Weight – Body Mass Index (BMI)
Cholesterol Profile
Total Cholesterol
HDL Cholesterol
Total-Cholesterol/HDL ratio
LDL Cholesterol
Triglyceride
Diabetes Screen
Fasting Blood Glucose
HBA1C* (where applicable)
Kidney Function
Urea
Creatinine
Potassium
Sodium
Chloride
Estimated Glomerular Filtration Rate (eGFR)
Urinalysis
Urine FEME
Urine Microalbumin
Microalbumin/Creatinine Ratio
Liver Function
Total Bilirubin
Alkaline Phosphatase
SGPT(ALT)
SGOT(AST)
GGT
Total Protein
Albumin
Globulin
Alb/Glob Ratio
Bone & Joint
Calcium
Phosphate
Uric Acid
Rheumatoid Arthritis Factor
Hematology
Full Blood Count
Erythrocyte Sedimentation Rate (ESR)
Peripheral Blood Film
Thyroid Function
TSH
Free T4 (If TSH is <0.40 pmol/L or >4.70 pmol/L)
Hepatitis Profile
Hepatitis A
Hepatitis B
Venereal Profile
VDRL (TPPA if reactive)
Cardiac Risk
C-Reactive Protein
Creatine Kinase
Framingham Heart Analysis (10 Yr Risk)
Cancer Markers
AFP (Liver)
CEA (Colon)
EBV (Nose & Throat)
CA19.9 (Pancreas)
PSA (Prostate) (Male)
Beta HCG (Testes) (Male)
CA125 (Ovarian) (Female)
CA15.3 (Breast) (Female)
Heart Screen (Special Lipids)
Apolipoprotein A1
Apolipoprotein B
Apo B /A1 Ratio
Deficiency Screen
Vitamin D
OR
Anemic Panel (Iron, Vitamin B12, Folic Acid )
Book an appointment now
FAQs
I have just made an online booking. Is my appointment confirmed?
Not yet. Our service staff will contact you within 1-2 working days to verify your information and confirm your appointment. We will subsequently send you an email confirmation.
I would like to book a home-based screening for 2pax or more at the same location. Is the price cheaper?
Yes, we offer bundle packages for 2pax.
For 3 or more pax, you may contact our us at 6777 3667 or WhatsApp 8831 3515 for a quote.
Payment can made on your screening day via Nets, Paynow, Cash or Bank Transfer.
An E-receipt will be sent to your indicated email
How do I schedule an appointment?
You may make a booking online by clicking on "Book Now". Alternatively, you may also contact us by calling 6777 3667 or WhatsApp 8831 3515
Can I change/cancel my appointment after confirmation?
Yes, you can. Rescheduling or cancellation must however be done 48 hours prior to your appointment.
How do I prepare for my screening?
Fasting of at least 8 hours prior to your appointed time is recommended.
Stay hydrated by drinking plain water as you will also be required to provide a urine sample during your appointment.
All medication except for diabetic condition can be taken as per normal.
What if I am unable to submit my Urine / Stool Sample?
You may submit directly at Health Outreach Clinic. Details will be provided on screening day.
Alternatively, you may request a 2nd sample collection at $30 before GST.
How long will the whole process take?
It typically takes around 20 mins per participant which includes biometric measurements, blood extraction and payment collection.
When and how will I receive my results?
A full report will typically be available within 3-5 working days. We will send you an email notification when ready. You may then login to retrieve your results.
How can I arrange for a health screening review?
You may call our helpline at 6746 6033 to request for a health screening review. The consultation is complimentary. We regret that face-to-face Doctor consultation is currently not available until further notice
Get in touch with us
Contact Us Now
We have had over 15 years of health screening experience. Speak with one of our experts now, we are ready to meet your needs!
Main Office
Vision Exchange
2 Venture Drive #10-16
Singapore 608526 (Office)
Tel: 6777 3667
WhatsApp: +65 8831 3515
Clinic
Far East Shopping Centre
545 Orchard Road
#B1-01/02, Singapore 238882
Tel: 6777 1227
*Strictly by appointment only