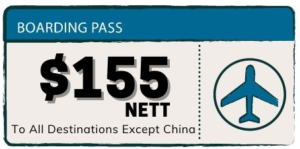 Documents Required
Identity card for Singapore citizens, permanent residents, and long-term pass holders only, and passport (for all travellers)
Soft copy booking reference showing your departure flight timing
Price
Flights to China- $200.00 (inclusive of GST)
Flights to other destinations- $155.00 (inclusive of GST)
Testing Window Period
Flights to China- 40 to 48 hours before departure
Flights to other destinations- 48 to 72 hours depending on destination
*you are encouraged to check with the country embassy for latest updates on testing window
Results
You will receive your results between 24-30 hours after the test via email. You are advised to print the results out when you travel.

Multiple Appointments
If you need to arrange appointments for a group of individuals, please email us at enquiry@hop.sg so that we can facilitate the bulk booking to your convenience.
To make an appointment, click the buttons below
Our clinic is approved by Ministry of Health for your pre-departure COVID-19 PCR Swab Test
Address:
Far East Shopping Centre, 545 Orchard Road
#B1-01/02, Singapore 238882
Tel: 6777 1227
Covid-19 swab test operating hours
Mon – Fri
1.30pm – 4.30pm*
Sat
1.30pm-4.30pm*
Sun and public holidays
Closed
*Strictly by appointment only
Frequently Asked Questions
We aims to make your visit a smooth and pleasant one. To ensure that you are well-prepared, please see below for appointment preparations and what you can expect pre-, during- and post-visit.
How long does it take to get tested? Do I need to prepare prior to the procedure?
The pre-departure COVID-19 PCR swab test takes approximately 15 minutes to complete. You are advised to reduce contact with other individuals before the swab test results are released.
Please remember to bring along your identity card, passport and booking reference indicating your flight departure date and time.
Can I get a COVID-19 PCR Swab Test even if I am not travelling? Can I do a voluntary swab test?
COVID-19 PCR Swab Test can be conducted for individuals on an elective/voluntary basis. No approval letter is necessary.
What is the required testing window for a Pre-Departure COVID-19 PCR Swab Test?
The required testing window is calculated based on your flight timing.
You should be present at our clinic for your Pre-Departure COVID-19 PCR Swab Test at least 48 to 72 hours prior to your flight
(whichever the applicable requirements set out by your destination country). You are strongly encouraged to check the destination country's embassy website for the latest information.
Can I have a Pre-Departure COVID-19 PCR Swab Test without an appointment?
We regret that Pre-Departure COVID-19 PCR Swab Test is strictly by appointment only. You may book online or contact us at 6777 1227 or Whatsapp: 88313 515
I need to leave the country urgently in less than 48 hours. Can I get swabbed?
Yes, you can. However, we cannot guarantee that we will be able to meet your requested timeline and that the results will be received in time for your flight
How long will it take to know the result?
We will inform you of your COVID-19 PCR swab test results as soon as it is available, typically within 24hrs via email.
You will receive:
(1) Laboratory report
(2) Notarized digital certificate of the results (base on MOH guidelines)
You are advised to print these documents for reference during your travel.
What happens if I have a positive result?
In the event your Pre-Departure COVID-19 PCR Swab Test result is positive, we will not be able to issue a memo to travel and you will be referred to NCID for subsequent care and management.
What happens if my result is inconclusive?
Pre-Departure COVID-19 PCR Swab Test results may return as inconclusive. In that event, a repeat test may be conducted and is chargeable. Should this result affect your departure, Health Outreach Clinic or the appointed laboratories vendor(s) shall not be held responsible or liable for any claims, damages, losses, expenses, costs or liabilities.
What happens if my PDT results are delayed?
HOP works to ensure that all results are delivered within 24 hrs. However, we seek your understanding that unexpected delays may occur. If we are unable to provide you your PDT results at least 3hrs before your departure. A full refund will be given.
HOP and our partnering laboratories will not be held liable for any claims, damages or losses, direct or indirectly resulting or arising from your use of our test services.
The terms of our service will be shared during your registration.
Get in touch with us
Contact Us Now
We have had over 15 years of health screening experience. Speak with one of our experts now, we are ready to meet your needs!
Main Office
Vision Exchange
2 Venture Drive #10-16
Singapore 608526 (Office)
Tel: 6777 3667
WhatsApp: +65 8831 3515
Clinic
Far East Shopping Centre
545 Orchard Road
#B1-01/02, Singapore 238882
Tel: 6777 1227
*Strictly by appointment only